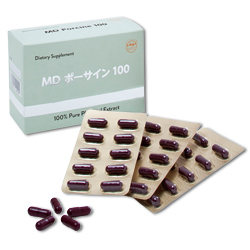 It makes your skin glow by keeping it free from blemishes and wrinkles.
Highly popular placenta in cosmetic surgery With MD Posighn 100 you can obtain identical results to injections.
Highly popular placenta injection in cosmetic surgery
Placenta injection (Laennec) is a treatment that uses ingredients extracted from a human placenta, originally used in the treatment of liver cirrhosis and hepatitis. More recently, however, it has gained plenty of attention as having a beneficial effect in combating physical exhaustion and eye strain, as well as restoring youth (by means of activating cells and stimulating the blood circulation, which gets rid of blemishes, wrinkles and sagging skin), and beautiful figure and skin.
This outstanding alternative to placenta injections is manufactured by Japan Bio Products Co. Ltd, the makers of the Laennec injection.
We especially recommend this product to people with busy lives that leave no time for hospital visits.